Sarah Niedoba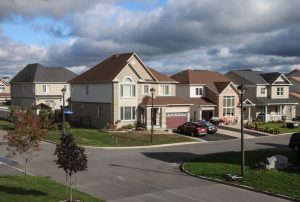 Photo: James Bombales
It's been quite the last 12 months for Canadian home buyers, from April 2017's red hot prices to January's sudden drop in sales. And despite a now cooling housing market, prices in Canada's biggest cities remain unaffordable for many.
So how are buyers feeling heading into the second quarter of 2018? Surprisingly optimistic, according to some recent surveys, although high prices are still on many minds. To learn more about the current state of affairs, BuzzBuzzNews has rounded up the latest commentary from industry experts to keep you in the know.
1 in 4 Canadians plan to buy this year.
The dream homeownership is still alive for 23 per cent of Canadians, according to a new survey from BMO, which found that one in four are looking to buy a primary residence this year.
It's a surprisingly high number, given that 73 per cent of respondents also indicated that they believe interest rates will go up in the next year. Another 53 per cent said that, despite a new mortgage stress test, they're not planning to stress-test their mortgage.
"For the first time in years, interest rates are beginning to rise — making it increasingly important for Canadians looking to buy a home to stress-test their mortgage against a higher rate to ensure they can afford it over the long term," writes BMO head of personal banking Martin Nel, in a statement.
The Bank of Canada raised the overnight rate to 1.25 per cent in January, and is widely expected to do so again before the end of the year.
Homeownership is still a goal for Millennials.
Millennials are still set on the idea of homeownership too, it seems. According to Zoocasa's 2018 Housing Trends Report, 84 per cent of Millennials surveyed felt that owning a home was an important life milestone.
"Homeownership remains a coveted goal for many Canadians," reads the report. "However, achieving this perceived life milestone remains as challenging as ever in 2018, as increasing home prices and a rising interest rate environment presents obstacles to ownership."
But everyone is worried about affordability.
Speaking of unaffordability, that's on buyers' minds too. A recent survey from Nanos Research Corporation on behalf of the Ontario Real Estate Association (OREA), found that 68.5 per cent of young Ontarians agree or somewhat agree that homeownership is unaffordable in their neighbourhood.
"The dream of home ownership is slipping away for an entire generation of young people," writes OREA CEO Tim Hudak, in a statement. "Nearly half of Ontarians between the ages of 25 and 34 are still living at home with their parents. We need to take action to address this problem."
The survey found that 58.7 per cent of non-Millennial Ontarians agree or somewhat agree that home ownership is unaffordable in their neighbourhood, while 41 per cent listed saving enough for a downpayment as the most important barrier to owning a home.