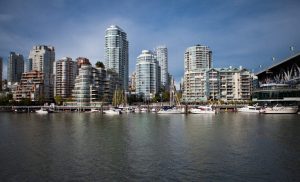 Kerrisa Wilson Apr 19, 2018
Effective April 19, a new agreement between the City of Vancouver and Airbnb will officially allow Vancouverites to use their primary residences as short-term rentals as long as they have a business licence. Announced last week, the deal between the City and the global home-sharing website is the first of its kind in Canada.
The new regulations are meant to free up long-term rentals in the city, which UBC professor of real estate finance Tom Davidoff says is a step in the right direction.
"We'll probably see some movement away from short-term rental to long-term and that should help improve a very tight rental market," Davidoff tells BuzzBuzzNews.
The new bylaw permits Vancouver residents to operate short-term rentals in their principal residence for stays of less than 30 days, as long as they have a business licence. As of April 19, the $49/year licence number must be included in all Airbnb postings, otherwise operators could be removed from the site and face daily fines of $1,000.
According to a City press release, there are currently 6,600 illegal short-term rentals in Vancouver. Under this new bylaw, the City estimates that at least 1,000 of those units will be returned to the rental market.
"Airbnb has decided to be cooperative both in withholding sales tax at the provincial level and now helping enforce short-term rental in Vancouver. They have a big market share, so that should be influential," says Davidoff.
Airbnb will also provide a list of all Vancouver licences and associated addresses operating on its site on a quarterly basis, which the City will cross-reference to its licensing records.
Last November, city council began regulating short-term rentals by implementing mandatory business licences for any operators looking to list property on Airbnb. But per this new agreement, non-principal residences will not be permitted.
Since the City began cracking down on short-term rentals, Davidoff says it will likely lead to an improvement to the city's record-low vacancy rate, which sits at 0.7 per cent.
"We've probably already seen quite a bit of impact because I think most people people like to play by the rules and the rules already forbade full-time Airbnb," he says.
In the wake of these new rules, Davidoff adds there is a risk that some Vancouver hosts might decide to leave Airbnb in favour of another home-sharing platform, in order "to fly under the radar and disobey city rules."
Although these regulations are not Davidoff's ideal choice for addressing the city's tight rental market, he applauds the City's effort in tackling the issue.
"I think taxing short-term rentals at a high-rate might be preferable to banning them. But, I think you have to do something because unless you want the city to be a playground for the rich you've got to find a way to get housing for people who live and work here," he says.